Hot Pockets Stevie Johnson Surprise and Delight
talent logistics, video shoot production, post-production editing, schedule, and budget
Launch: December 5, 2014 Role: Lead Project Manager Agency: Threshold Interactive
In the Fall 2014, Hot Pockets found out that the brand had a famous fan – San Francisco 49ers player Stevie Johnson. Johnson had been starting conversations with his fans about his new invention, a work fantasy league. A playful spin on Fantasy Football, Johnson assigned his fans points based on tasks they did during their work day. Throughout the conversations, Johnson mentioned that Hot Pockets were "damn good." Our social team picked up on the conversation through social listening, and inserted ourselves into the conversation. To our delight, Johnson not only replied but asked us to team up on a secret project.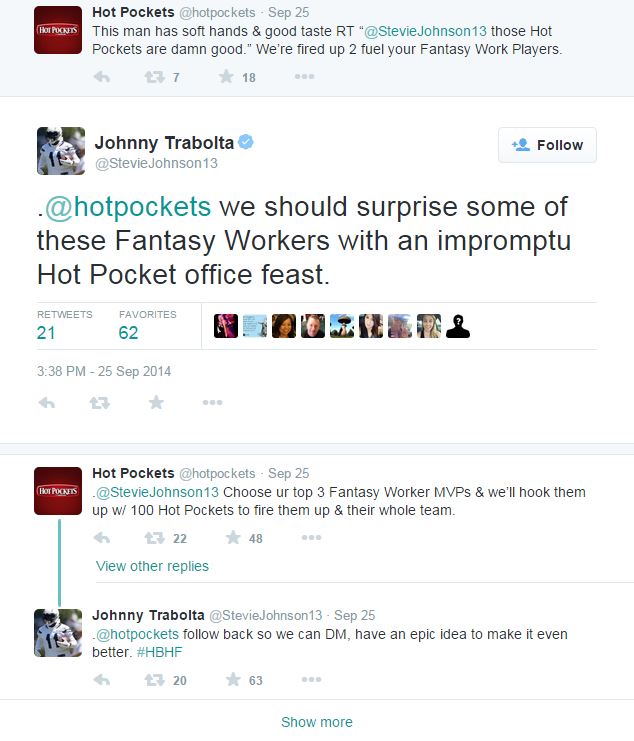 Hot Pockets and Johnson teamed up for the rest of the football season to hook his fantasy work players up with Hot Pockets vouchers.
But the partnership didn't end there. We decided to push the idea further and actually have Johnson deliver Hot Pockets to one of his fans at their office and turn it into a social video. We called on our favorite small production company and flew up to San Francisco to meet up with Stevie and surprise a lucky fan. The timing of the shoot was complicated by the fact that we were partnering with an NFL player, whose off days weren't determined until the week before. But with some flexibility and a lot of Hot Pockets fuel, we pulled off a great surprise and delight.
Watch me surprise some of my hungry Fantasy Workers w/ a special delivery of @HotPockets #FantasyWorkLeague #HBHF https://t.co/dEILmys53V

— Johnny Trabolta (@StevieJohnson13) December 5, 2014
This was a great experience for me to manage a live shoot, especially with all of the scheduling and talent logistics to keep track of. Here's what I did for this project:
Worked with Nestle's talent management company to manage logistics for working with Stevie Johnson
On boarded the production company, including contracting and managing payment processing
Managed communication with the production company
Kept a flexible schedule that was able to change depending on Johnson's shoot availability
Managed post-production editing and creative feedback from our internal team and client
Estimated and tracked the budget